University of New Mexico Lobos athletics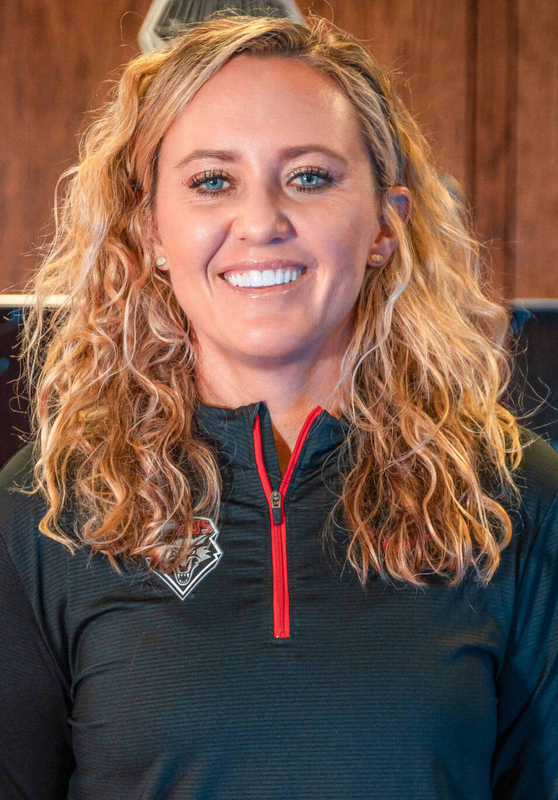 Nicole Dickson enters her second season as head coach of the Lobo softball program in 2023-24. Hired on June 3, 2022, Dickson is the sixth head coach in program history.
The Lobos took significant statistical strides in her first year in Albuquerque, producing numbers that hadn't been achieved in several years. Of note, UNM's .299 batting average was the best since 2015 and tied the best average for the program in the last 11 years. The 399 hits and 231 runs scored were the most since 2015 and 2016, respectively, and the 214 RBI and .368 on-base percentage were the highest since 2015. The team's 14 triples were the most in a single season since 2010 and the Lobos' 40 stolen bases were the most since 2013. Defensively, the Lobos led the MW with 22 double plays, the most turned since 2015 and the four shutouts were the most since 2013.
Additionally, UNM jumped in the NCAA rankings from a season ago in eight categories: batting average (a ranking improvement of 86 spots), triples per game (88 spots), stolen bases per game (87 spots), runs (49 spots), on-base percentage (46 spots), slugging percentage (12 spots), shutouts (16 spots) and double plays turned (141 spots). The Lobos ranked 45th in batting average, 27th in double plays per game, 29th in triples per game, 68th in on-base percentage and 88th in slugging percentage.
It didn't take long to see the potential as with UNM's season-opening win over Nicholls, Dickson became just the second Lobo head coach in program history to win in their coaching debut, doing so with the largest margin of victory (12-3 in five innings). Three games later, Dickson and the Lobos made more history, beating No. 19 Oregon State 8-0 in five innings for UNM's first win over a ranked opponent since 2016 and UNM's first run-rule win over a ranked opponent since 2012.
During the season, Dickson guided the Lobos to their first series win over Nevada since 2015, UNM's 8-0 win over SJSU on March 25 was the first shutout against the Spartans since May 8, 2015, and the 12 runs scored against CSU on April 16 were the most runs the Lobos have scored against the Rams since April 15, 2016. In the March 19th win at Utah State, the Lobos finished with 18 hits, 15 runs and struck out 14 Aggies, with the 18 hits the most since 2018 and the 15 runs were the most since 2019. The 15 runs were the most against the Aggies since April 26, 2014, and the 14 strikeouts by Amber Linton were the most in a game by a Lobo since 2013.
Among the conference, UNM had players in the top four in the MW in batting average (Rachael Hathoot second at .396 and Peyton Robinson fourth at .380), two players in the top 5 in the MW in hits (Robinson fourth at 60 and Hathoot fifth at 59), two players in the top 2 in triples (Hathoot first at seven and Ashley Archuleta tied for second at 5) and had two MW Player of the Week, one Pitcher of the Week and two Freshman of the Week honors.
UNM produced two All-Mountain West First Team members in Archuleta and Hathoot, who each had their best seasons in a Lobo uniform.
Hathoot produced her best season as a Lobo with 59 hits, nine doubles, seven triples, 31 RBI, 91 total bases, 12 walks,  38 runs scored, a .396 batting average, .452 on-base percentage and .611 slugging percentage and her seven triples tied for the third most in a single season in program history, last done in 1998. Her 59 hits were more than her freshman and sophomore seasons combined, as were her total bases. Further, she had a career-best 15-game hit streak and career-best 20-game streak of reaching base, while also leading the team with 18 multiple hit games, five games with three hits and had seven multiple RBI games with a career-high five RBI against NMSU. Among the MW, the Lobo led the MW in triples and assists (114), was second in fielding double plays, second in batting average, fifth in hits, eighth in slugging percentage and total bases and ninth in on-base percentage. Archuleta finished with 43 hits, four doubles, five triples (tied for the ninth most in a single season in program history) and three home runs, 25 RBI and 66 total bases, had a .508 slugging percentage, .331 batting average and .401 on-base percentage. She finished her best season as a Lobo in terms of home runs, triples, batting average, slugging percentage and stolen bases.
In the circle, Amber Linton recorded a MW-best 164 strikeouts and set a program record in strikeouts per game at 7.24, besting her own program record of 6.97 she set in 2022. Her 14 complete games doubled her total from the previous year and she also registered 15 games with five or more strikeouts and three games with 10-plus strikeouts, an improvement over last season as well.
Nationally, Hathoot finished 53rd in the NCAA in batting average, fifth in triples and seventh in triples per game, Archuleta finished 28th in triples and 30th in triples per game, Robinson finished 30th in sacrifice bunts and Linton finished 58th in strikeouts.
"I am excited to have Nicole join the Lobo Family," said Vice President/Director of Athletics Eddie Nuñez at the time of her hire. "She has been highly successful at multiple levels and she has a history of building programs.  Her vision for what Lobo Softball can be, and how to build it, is what we need to bring our program to a championship level."
Prior to arriving at UNM, Dickson spent six seasons as the head coach at Stephen F. Austin, with the Ladyjacks surpassing 30 wins in four of five seasons and were on pace for another stellar result in the shortened 2020 season with a 19-4 record. Through her six seasons, Dickson compiled a 169-123 record and was named the 2021 Southland Conference Coach of the Year.
Under her leadership, SFA had 20 all-conference selections, as well as two hitter of the year and pitcher of the year selections, a player of the year and a freshman of the year.
"I am grateful for the opportunity to join UNM Athletics," Dickson stated upon her selection as the new Lobo head coach. "I really value, and aligned with, the core values and vision for the program. Both Eddie Nuñez and Deputy A.D. for External Affairs Dave Williams are all in, and are willing to support the student-athletes to have a quality experience and want to see softball be successful. I loved the community and coaches and the beautiful campus sells itself.
"I am excited to work with the student-athletes and develop a competitive, hard-working culture focused on getting better every day. The goal is to compete for championships and represent the campus and community positively on and off the field."
In her last season at SFA, the Ladyjacks went 18-6 in conference play and 31-27 overall, winning the Southwest Division and advancing to the WAC Tournament final as the No. 2 seed. The Ladyjacks had three players make the All-WAC team with Kassidy Wilbur claiming Pitcher of the Year. Wilbur struck out a conference-best 219 batters, holding the opposition to a .211 batting average while recording a WAC-high 37 appearances and tying the WAC lead in wins with 19. In her 18 complete games, she recorded a conference-high six shutouts.
Prior to that, the Ladyjacks won their second Southland Conference regular season title in 2021 with a 35-12 overall and 25-2 conference record, resulting in Dickson being selected Coach of the Year.
As a result of Dickson's and the Ladyjacks' success, three players were named to the 2021 NFCA All-Region Division I teams, with two first team selections and a third team selection. In addition, under her guidance, SFA had seven named to the all-conference teams that included the Southland Conference's Pitcher of the Year, Hitter of the Year and Player of the Year. Wilbur was also named Southland Conference Pitcher and Player of the Year in the league, the first time a Ladyjack has collected both honors simultaneously, as well as named a JWOS All-American Second Team.
Further, in 2021, the program set three program records. SFA's 25 league wins and just two conference losses were a program best, with the team setting another program record with 18 consecutive wins.
In the shortened 2020 season, Dickson and the Ladyjacks went 19-4 and set a program record with a then-13 consecutive wins with a NCAA Division I best nine true road wins. In the 2019, SFA went 36-23, compiling wins over Power Five programs Illinois, Mississippi State, Indiana and Baylor.
Before taking the helm at SFA, Dickson gained experience as the head coach at Tyler Junior College (2013-16) and a spent a year as the head coach at Paris Junior College (2012-13). Dickson got her start in coaching as a graduate assistant at Hardin-Simmons in 2008 before getting her first coaching job as an assistant coach at Howard College in 2010.
Dickson earned a B.S. in health and physical education from Eastern New Mexico in 2008 and earned a master's in sports management and kinesiology from Hardin-Simmons in 2009.