University of New Mexico Lobos athletics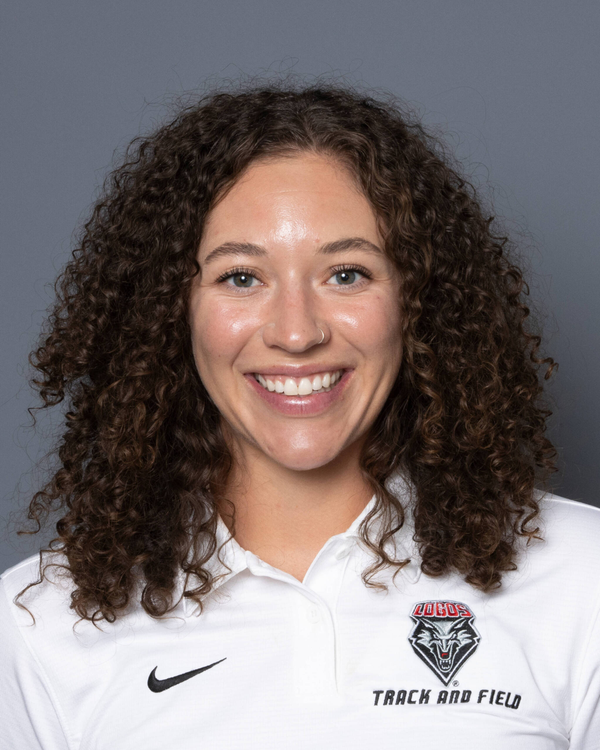 Kyra Mohns, a former UNM student-athlete and Albuquerque native, joined the staff as a full-time assistant coach in August 2021. She works primarily with the sprints, hurdles and multis.
A graduate of Eldorado High School, Mohns specialized as a combined athlete for the Lobos during her time from 2015-18.  She currently holds the 4th best score all-time in the pentathlon with 3807 points and the 4th result all-time in the heptathlon at 5391 points. In addition, she doubled in the 400-meter hurdles, an event that she currently holds the sixth best time in program history. 9th in 100mH, 9th in Javelin, 9th in 60mH
During her time at UNM, Mohns consistently performed at a high level. She secured third-place finishes in the pentathlon in both 2017 and 2018 and took third in the heptathlon in 2018, as well as a fourth-place finish in 2017 at the Mountain West Championships. Her excellence extended to the 400-meter hurdles, where she secured a second-place finish in 2018 and a third-place finish in 2017.
Her achievements earned her a place on the All-Mountain West Indoor Team in 2017 and 2018 in the Pentathlon and on the All-Mountain West Outdoor Team in 2017 for her performance in the 400m hurdles. In 2018, she once again earned All-MW honors, this time in the 400m hurdles and the heptathlon.
In 2018, Mohns graduated with a degree in elementary education, and in 2021 with a master's degree in special education from UNM.
Since joining the coaching staff as a graduate assistant in 2019, Mohns-coached athletes have produced seven school records. In 2022, she guided a women's 4x400m squad to break the women's indoor and outdoor school records, and Tianna Holmes (indoor and outdoor 200m and 400m), McKenna Watson (60m sprint), Rivaldo Leacock (400m hurdles) and Rebecca Grieve (600m) all set new program records under Mohns.