University of New Mexico Lobos athletics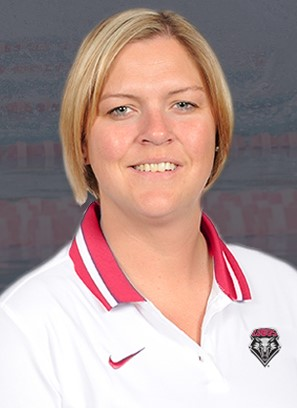 Keegan Ingelido  enters her third season as the head coach of the Lobo swimming and diving program, joining the program in August of 2019.
"We are excited to add a veteran coach like Keegan to our department to continue the positive momentum in our swimming and diving program," Nuñez said. "What set Keegan apart during the search process was not only her coaching experience, but also her success as a collegiate athlete as a three-time national champion and as an Olympic qualifier. Keegan will be a great leader and resource for our student-athletes."
With the selection, Ingelido becomes the fifth head coach in UNM program history.
Ingelido comes to Albuquerque after coaching at Texas Christian University for a 10-year period from 2007 to 2017, becoming the first ever associate head coach in program history after serving eight years as an assistant coach. Most recently, she was the assistant swim coach with the Ft. Worth Area Swim Team as well as supervisor of the Disadvantaged Youth Swim Program.
"I want to thank Eddie Nuñez, Dave Williams and Ryan Berryman for this great opportunity," Ingelido said. "I am absolutely excited about joining Lobo Nation.
"Having been part of the Mountain West Conference in the past gave me an opportunity to see UNM firsthand and appreciate what the school and athletes are all about. I am looking forward to meeting with all of the student-athletes who will help take this program to the next level."
With the Horned Frogs, Ingelido worked primarily with the backstroke and distance groups in addition to handling recruiting, team travel and logistics, as well as NCAA compliance oversight.
During her decade in Fort Worth, TCU swimmers were noted for both academic and swimming achievements with every women's team record and 16 of 19 men's team records being broken during her tenure. In 2013, the new Lobo coach coached TCU's first Big 12 individual champion and guided two swimmers to the NCAA Championships. In 2011-12, she coached the first female NCAA qualifier for TCU since 1996 and in 2007-08 coached the first male NCAA qualifier since 1997.
As the recruiting coordinator for the women's team, she recruited nationally- and internationally-ranked swimmers including a German Olympic Trials finalist.
Prior to her time at TCU, Ingelido held the role of assistant swim coach at the University of New Orleans for two years where she oversaw team travel, recruiting, budget management, NCAA compliance requirements and facilities and equipment management for the newly created women's team.
As an assistant coach at New Orleans from 2005-07, all swimmers under her guidance achieved lifetime best times in every event during the 2006-07 season. Before her stint at New Orleans, Ingelido served as assistant coach with the Stingray Swimming USS Club in Marietta, Ga., where she coached junior national, national and Olympic Trials qualifiers.
Ingelido had an acclaimed collegiate swimming career, swimming at the University of Georgia from 1998-2001, winning three national titles with the Bulldogs. Ingelido earned First Team All-America status 14 times for individual and relay events and four Honorable Mention All-America awards for individual and relay events. Notably, Ingelido claimed the individual NCAA title in the 200-back (1:53.22) in 1999. At the 2000 NCAA Championships, she swam the butterfly leg of the world-record setting 400 medley relay with a time of 3:57.46.
In addition, in her time in Athens, she was a four-time All-SEC First Team selection and qualified for the Olympic Trials in 1996, becoming a finalist in the 400 IM and 200 back events in 2000.
Ingelido earned a Bachelor of Arts degree in sports studies from Georgia in 2002.
The new head coach inherits a swimming and diving program on the rise, coming off of its most successful season as a member of the Mountain West. The 2018-19 team finished with its highest Mountain West finish, fourth place, in program history, as well as had seven individual athletes and one relay team earn All-Mountain West accolades. In addition, UNM had both a swimmer and a diver earn a MW Swimmer of the Week and MW Diver of the Week, marking the first time getting both of those accolades in the same season since the 2012-13 year.
Academically the Lobos also excelled, having been selected by the College Swimming and Diving Coaches Association (CSCAA) as its Scholar All-America team for the Spring 2019 semester with a 3.72 team GPA. UNM tied for the third-highest GPA on the women's side for Division I during the Spring semester and carried a 3.76 GPA in the Fall term which was the highest GPA in the history of the swimming and diving program.