University of New Mexico Lobos athletics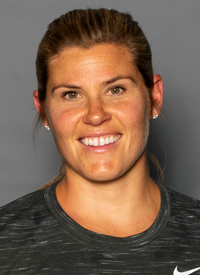 Karley Nelson was hired to the Lobo soccer team in 2015 and is in her ninth season involved with the program in the 2023-24 academic year. She was the assistant coach for her first four years, before being promoted to Associate Head Coach in 2019. Through her entire tenure at UNM, she has also served as the recruiting coordinator. In June of 2020, Nelson left to pursue other endeavors before returning to her same role a year later in June of 2021.
In her time with the program, Nelson has helped guide the Lobo women's soccer team to an 86-47-22 overall record and a 54-22-12 mark in Mountain West play. The Lobos earned a share of their third-consecutive Mountain West regular-season title in 2022, with the team going 7-3-9 overall and 5-1-5 in conference play. The Lobos hosted the Mountain West Championships, falling to San Jose State in penalty kicks in the semifinals of the tournament. UNM broke the program record for consecutive shutout minutes with 602:51, ending the season with the streak intact. UNM's team goals-against average of .082 was the lowest the program had seen since a mark of .068 during the 2011 season.
During the 2021 season, the Lobos earned their fourth regular-season-title, as well as being crowned the Mountain West Tournament Champions for the first time in 10 years (2011). In 2018, with Nelson on staff, the Lobos captured a share of the program's third regular-season title while also making a second-straight appearance in the MW Tournament Championship Game. That same year, the program set a record for goals scored with 45 and posted second-best marks in assists (33) and points (123).
Nelson is also an assistant coach for the US Soccer U23 national team. She has her USSF B license.
Prior to coming to UNM, Nelson was an assistant at Utah Valley University in 2014, where she helped direct the team's training sessions. Before that, the native of Orem, Utah, was an assistant coach at Iowa Western Community College from 2011-13, where she designed and implemented the team's training regimen. Nelson also assisted with recruiting, academics, team travel, and game management for the team. Iowa Western went 33-6-1 during her two full seasons, with a No. 3 national ranking in 2012 and a No. 5 national ranking in 2011.