University of New Mexico Lobos athletics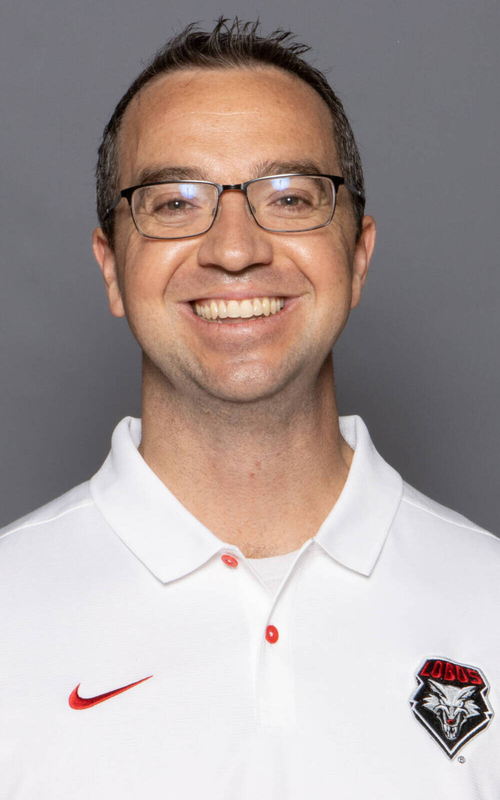 Jon Newman-Gonchar was hired on Jan. 21, 2019, becoming the 10th head volleyball coach at The University of New Mexico.
Newman-Gonchar took over at the helm of the Lobos after serving as the associate head coach at the University of Arkansas for the previous three seasons. In his last season in Fayetteville, a pair of Razorbacks earned AVCA All-South Region honors, giving Arkansas at least one All-Region honor in each of his three seasons with the program. The year prior, the Razorbacks went 19-11.
In his first year at UNM, the Lobos got stronger as the season went on, finishing the season winning five of the last seven matches. In the classroom, the Lobos posted two of the highest GPAs recorded in program history during the 2019-20 academic year, posting a program-best 3.77 in the fall semester and an equally impressive 3.74 in the spring. As a result, the team was named to the USMC/AVCA (American Volleyball Coaches Association) Team Academic Honor Roll, one of 46 teams to earn the additional distinction.
The Lobo head coach has served under renowned volleyball coaches such as Arkansas's Jason Watson, Iowa State's Christy Johnson-Lynch and former Loyola Marymount coach, USA Women's National Team assistant and current Georgia head coach Tom Black.
"I'm excited to welcome Jon and have him be our head volleyball coach," said Eddie Nuñez, Director of Athletics.  "We wanted someone with a wide breadth of experience and someone that will bring excitement and championships to Lobo Volleyball.  Jon has been at all levels of Division I and he has tremendous national team experience.  We look forward to having Jon and his wife Morgan join the Lobo family."
"I am thrilled to be named Head Coach at The University of New Mexico. I am humbled to lead the Lobo Volleyball team, represent this great state and this excellent institution," said Newman-Gonchar.  "I am grateful to call Albuquerque home and I would like to thank Director of Athletics, Eddie Nuñez, SWA Janice Ruggiero, and Associate A.D. Ed Manzanares for the transparent and professional search process."
Newman Gonchar added, "I would also like to thank one of my greatest mentors and friends, Jason Watson and the University of Arkansas for a wonderful three years. UNM has everything I was looking for, a flagship university that offers a great student athlete experience, in a town that loves athletics, and to be working with an athletic department that views the student athlete experience with great pride."
Prior to Arkansas, Newman-Gonchar was an assistant coach at Iowa State in Ames.  With the Cyclones, the program went 56-31 overall, including 32-16 in Big 12 play.  Iowa State defeated five ranked teams over those three seasons, finished as high as second in the Big 12, and advanced to the second round of the NCAA Tournament twice.
Individually, Newman-Gonchar coached his student-athletes to four AVCA All-America certificates, six AVCA All-Region honors and 18 All-Big 12 selections including a trio of Big 12 Libero of the Year honors and the 2015 Big 12 Freshman of the Year. In his three seasons at Iowa State, he worked directly with the team's setters and middle blockers.
Newman-Gonchar has also had assistant coaching stops at Loyola Marymount (2010-12) and UC San Diego with both the men's and women's teams (2007-09) and Louisiana-Lafayette (2006).  He also has been an assistant coach with the Thompson Rivers University men's volleyball team in British Columbia, and he was a volunteer assistant coach at his alma mater Northern Arizona.
Most recently in 2018, Newman-Gonchar was selected by Karch Kiraly to serve as Head Coach of the 2018 Team USA Pan American Cup team, where the squad took gold in Santo Domingo, Dominican Republic. In 2017, Newman-Gonchar joined Team USA as a consultant coach for the FIVB World Grand Prix team that finished 5th in the world in Nanjng, China. Also, in the summer of 2017, the Pan American Cup team took Gold in Lima, Peru at the annual NORCECA event.  Previously he served as assistant coach with the Pan American Cup team in 2015 in Lima, Peru and 2016 in Santo Domingo, Dominican Republic, where the U.S. won gold and bronze respectively.
In February 2020, Newman-Gonchar served as a court evaluator at the U.S. Women's National Team Open Tryout held at the U.S. Olympic Training Center.
He began his USA High Performance team experience in 2007, working with the USA Select A1 Girls Program.  Moved up the USA Volleyball High Performance pipeline ranks from there, including working as a technical assistant with the U.S. Junior National Team in 2009 as they prepared for the NORCECA U20 Continental Championship and again in preparation for the team competing at the 2010 FIVB U20 World Championships.
Newman-Gonchar's is excited over his first collegiate head coaching gig, and he is ready to put his stamp on the Lobo Volleyball program.  "The future is very bright for Lobo athletics and I can't wait to get to work to make UNM The Volleyball University in the state of New Mexico!"
A native of Claremont, Calif., Newman-Gonchar earned his bachelor's degree in health sciences in December 2005 from Northern Arizona. He and his wife Morgan welcomed their first child, Hudson, in May of 2019.