University of New Mexico Lobos athletics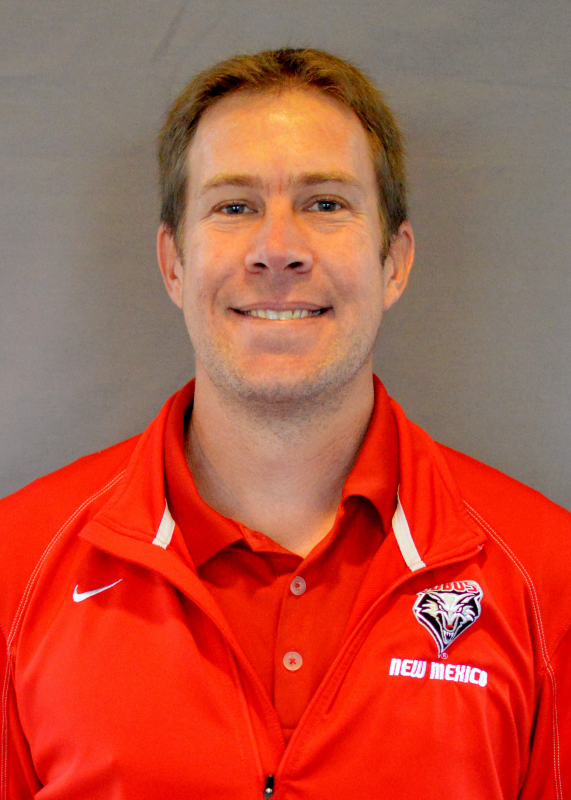 James Butler is in his sixth year as an assistant coach at New Mexico, where he has works with the Lobos' cross country teams and distance runners. The Albuquerque native returned to UNM in 2015 after four years coaching cross country/distance at UMKC and three years as a graduated assistant at New Mexico.
While at New Mexico, Butler has helped the Lobos to unprecedented success, including a pair of team NCAA titles in cross country and four individual titles between cross country and track & field.
During the 2015 cross country season, the Lobos' women's cross country team stormed to one of the most dominant seasons in NCAA history, winning the national championship behind five All-Americans. New Mexico had all five of its scorers place in the top 25. He also helped coach the Lobos to a second NCAA title in 2017, as they have four scorers place top-15. Additionally, the Lobos have won three-straight Mountain West cross country titles during Butler's tenure in Albuquerque, extending their streak to 10 in a row.
On the track, Butler helped Courtney Frerichs to an NCAA title and NCAA record in the 3,000-meter steeplechase, coaching his former pupil at UMKC to a win at the 2016 NCAA Outdoor Championships. Frerichs then went onto compete professionally with the Bowerman Track Club, advancing to the finals of the steeplechase at the 2016 Olympic Games in Rio de Janeiro. Josh Kerr added to NCAA titles of his own, sweeping both the mile run and the 1,500-meter run at the 2017 NCAA Indoor and Outdoor championships.
During his tenure at UMKC, Butler has helped guide Frerichs to a number of accolades, including five All-American honors, five WAC titles and a pair of Summit League titles. Frerichs, who went to New Mexico with Butler to finish her final season of collegiate eligibility, was a two-time cross-country All-American and was the runner-up in the steeplechase at the 2015 NCAA Outdoor Championships.
Additionally, Frerichs (2012) and Bryce Miller (2014) garnered spots on the U.S. IAAF Junior World Championship squad with both competing in the 3,000 meter steeplechase. Cosmas Ayabei, meanwhile, placed 56th at the 2011 NCAA Cross Country Championship under Butlers tutelage.
Prior to UMKC, Butler coached with the Lobos. After serving two years as a graduate assistant at UNM in 2009 and 2010 while coaching the men's and women's track and cross country, Butler moved to a part-time position with the Lobos during his third year, coaching middle distance and cross country.
While there, he led multiple All-American performers, and helped the men's and women's cross country teams to national top 20 finishes in back-to-back seasons (2009 and 2010).
After a stellar high school career at Eldorado High School in Albuquerque, where he was state champion, Butler attended Wake Forest University on a cross country/track scholarship. While at Wake Forest, Butler competed in the NCAA Cross Country Championships on two occasions, and was an NCAA Regional track qualifier in the 5000 meters.
After graduation he moved back to Albuquerque and made coaching stops as an assistant at Del Norte High School, and as the head coach at his alma mater, Eldorado High School, where he produced six state championship teams and individuals. His best athlete, Matt Tebo was a Footlocker regional champion, and fifth placer runner at the Footlocker national finals.
During the two years as a graduate assistant at UNM, Butler assisted with the daily training of the cross country team, while focusing on the middle distance runners in track. He also coordinated the recruiting efforts of New Mexican high schools.
He was also assistant meet director for all UNM home competitions as well as assisting with the USA Indoor Track & Field Championships and the USA Indoor Masters Track & Field Championships.
Butler, who has a bachelors degree in Computer Science from Wake Forest, completed a Masters degree in Sport Administration from New Mexico.