University of New Mexico Lobos athletics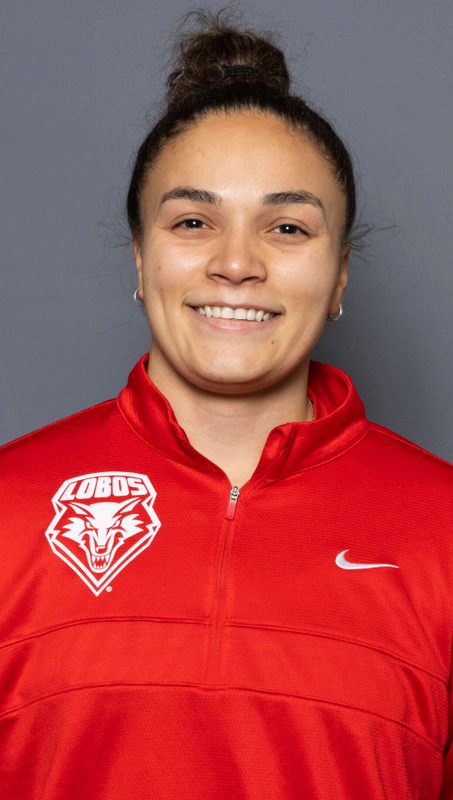 Former UNM standout Jaisa Nunn joined the program to serve as a graduate assistant in August 2023, reuniting with former teammate and current assistant coach Nike McClure.
"I'm happy to be here and I'm excited to come back to New Mexico," commented Nunn. "I'm excited to do whatever I can to help the team and looking forward to the season."
Nunn played for the Lobos from 2015-19 and played in 117 games while starting 79, leading the team in scoring in 2017-18 and 2018-19, setting the program record for most points in a conference season with 330 in 2017-18 and produced 13 games with 20 or more points in 2018-19. She also scored 30 or more points in three games during the 2017-18 season, including a 39-point performance against Marquette on Nov. 13, 2017 that is tied for the third highest in a single game in program history.
In addition, Nunn totaled 595 points (an average of 17.0 points per game) in 2017-18, for the third-highest point total in program history and followed that up with the fifth-most points in a season in 2018-19 with 542 points (an average of 17.5 points per game, which was the third-highest average in UNM history).
At the duration of her career, Nunn amassed 1,570 points, finishing sixth all-time and with an average of 13.4 points per game and had the second-best career field-goal percentage at 57.1% (401-702).
Nunn was also a presence on the boards, grabbing a career total of 952 rebounds which places second all-time, behind 358 rebounds (10.2 per game average) in 2017-18 for the second-most rebounds in program history. She grabbed a career-high 19 rebounds in a game against San Diego State in 2019 and had an 18-board outing against UC Irvine in 2017.
Combined with her point contribution, Nunn averaged 17.0 points and 10.2 rebounds per game while also contributing 26 blocks and 36 steals in the 2017-18 season. In addition, Nunn recorded the highest field-goal percentage in program history during that season, going 221-347 for 63.7% efficiency during the season.
During her time, Nunn was named the Mountain West Player of the Year (2018-19), was named to the MW All-Conference First Team in 2017-18 and 2018-19 and to the MW All-Freshmen Team in 2015-16.
Following her UNM career, Nunn played internationally in Spain, Italy and two years in France, most recently playing for Landerneau in France.
Nunn will be pursuing her MBA at UNM.