University of New Mexico Lobos athletics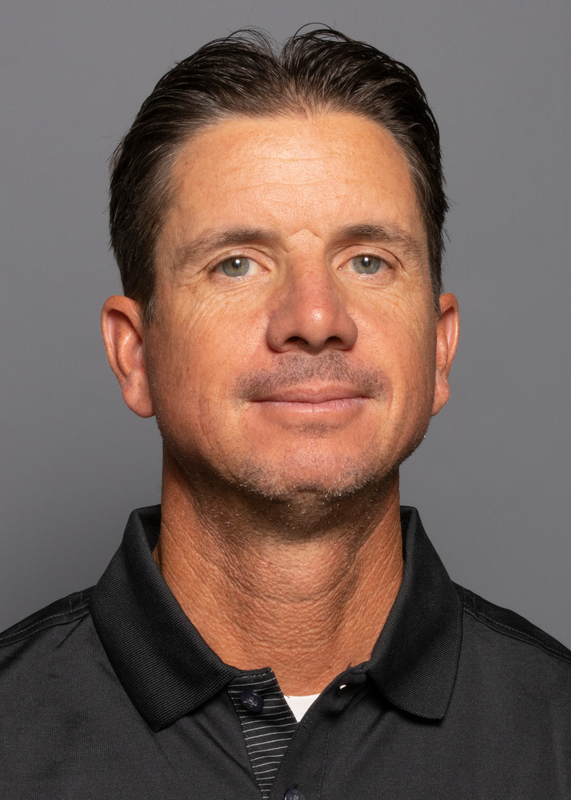 NCAA Tournament
– 7 National Championship Appearances (finished 5th in 2005 & 2013)
– 17 Regional Appearances (Regional Champions in 2002 & 2013)
Mountain West Conference
– Eight-time MWC Champions (2003, 2004, 2005, 2006, 2013, 2014, 2019, 2021)
– 6 Individual MWC Champions (2003, 2006, 2009, 2011, 2014, 2019)
– 5 MWC Players of the Year (2003, 2007, 2009, 2013, 2014)
Coach of the Year Awards
– Three-time Region Coach of the Year (2003, 2004, 2005)
– Five-time MWC Coach of the Year (2003, 2005, 2013, 2014, 2019)
– Two-time UNM Hall of Honor Coach of the Year
UNM Playing Career (1993-1998)
– 3-time letterman for the University of New Mexico for John Fields and JT Higgins
– 1997 Academic All-American
All-Americans (10 players, 15 times) 3 of program's 4 1st Team Selections
– Scott Hailes (2002)
– Michael Letzig (2003)
– Spencer Levin (2004, 2005) FIRST TEAM 2005
– Jay Choi (2006)
– Charlie Beljan (2007)
– Steve Saunders (2009)
– John Catlin (2012)
– James Erkenbeck (2013) FIRST TEAM
– Gavin Green (2013, 2014, 2015) FIRST TEAM 2015
– Andrej Bevins (2017)
– Sam Choi (2020, 2021, 2022)
Academic All-Americans
– 21 players 35 times
Team Tournament wins at New Mexico
– 35 including 8 conference titles and 2 NCAA Regional wins
Additional Stats
– 41 Individual Champions
– 5 Conference Players of the Year 6 times
– Gavin Green – most wins of all-time with 8
– 9 of Top 10 individual career stroke averages in program history
– 12 of 13 lowest Team Tournament scores in program history
– Players coached currently playing professional golf
o Spencer Levin – PGA Tour – $8,098,656 in earnings
o Charlie Beljan – PGA Tour – 1 win & $3,849,631in earnings
o Jay Choi – Japan PGA Tour – 1 win & Y150,703,344 in earnings
o Wil Collins – Korn Ferry Tour, PGA Tour Canada
o Michael Letzig – PGA Tour, Korn Ferry Tour
o Gavin Green – European Tour, Asian Tour – 1 win and 2017 Order of Merit Winner, & 2016 Olympian
o Victor Perez – PGA Tour, European Tour – 1 win
o Sam Saunders – European Challenge Tour
o John Catlin – Asian Tour – 4 wins
Former Assistant Coaches in College Coaching
– Ryan Murphy (2001-2005) – Univ of Texas Head Women's Coach
– Jim Anderson (2007-2009) – Univ of Arizona Head Men's Coach
– Brian Kortan (2009-2013) – Texas A&M Assistant Men's Coach
– Jim Garren (2013-2014) – Coastal Carolina Head Men's Coach
– Drew McGee (2014-2016) – Georgia Tech Assistant Men's Coach (2016-2018)
– Chris Massoletti (2016-2019) – Cal Assistant Men's Coach
Facility Improvements
– Construction of indoor practice facility at home course, including three Trackman units, SAMS putt lab and V1 Golf Analysis System
– Construction of six new teeing grounds at UNM South Course to lengthen course to almost 7600 yds
– Renovation of team practice facility, redeveloping bunkers and addition of wedge range
– Installation of Team Workshop
– Current project – locker room expansion and renovation
Entering his 22nd year as head coach of The University of New Mexico men's golf team in 2022-23, UNM alumnus Glen Millican has enjoyed tremendous success at his alma mater, winning an unprecedented eight Mountain West Championships. In addition to eight team titles, Millican has also coached seven MW Individual Champions ('03, '06, '09, '11, '14, '19, '21 (T)), along with six MW Players of the Year ('03, '07, '09, '13, '14, '15). He also has led UNM to a pair of fifth-place finishes at the NCAA Championship (2005, 2013).
In 2021-22, Millican led the Lobos to a pair of victories, at the Wolf Pack Classic and John Burns Intercollegiate, and participated in the NCAA Palm Beach Gardens Regional. Sam Choi earned honorable mention All-America recognition after a season which he posted the second-best stroke average in UNM history at 70.44. Carson Herron was named Mountain West Freshman of the Year, while Choi and Bastien Amat were named All-Mountain West.
After returning from the COVID-19 pandemic pause in 2020-21, Millican guided his Lobos to their second straight Mountain West Championship title, eighth in program history, while also leading freshman Bastien Amat to 2021 MW Freshman of the Year honors. In addition, five players were named NCAA DI All-American Scholars while the team claimed the GCAA Presidents Special Recognition for earning a 3.5 GPA as a team.
The last complete season prior to the COVID-19 pandemic, the 2018-19 season, included his seventh Mountain West Championship title, a Mountain West Coach of the Year honor and his team being named the Academic National Champion for finishing the 2018-19 season with the top GPA in NCAA Division I Golf.
Millican has been at the helm of the program since June 25, 2001 and is just the seventh head coach in its history. Since his hire, Millican has won 33 tournaments and eight conference titles. The 33 tournament wins secures Millican's position as the all-time winningest coach in program history, passing the late, great Dick McGuire (1954-76, 29 wins). Millican is two conference championships shy of passing McGuire for most in program history.
Millican has earned five Mountain West Coach of the Year honors during his time at UNM, the most recent in 2019 after he led his team to its seventh Mountain West title in program history. The squad earned three top-five finishes throughout the season and at the conference championship, two Lobos, Sean Carlon and Galven Green, finished atop the leaderboard tied for first. The pair then participated in a playoff in which Green claimed the MW Individual Championship. That same season, Millican also led Sam Choi to earn Mountain West Co-Freshman of the Year honors. Millican's other Mountain West Coach of the Year honors were earned in 2003, just his second season as a head coach, 2005, 2013 and 2014.
Millican has been honored as a two-time Golf Coaches Association of America (GCAA) Regional Coach of the Year (2003 & 2004) and was a finalist for the GCAA National Coach of the Year Award in 2013. He also has earned three Eaton Golf Pride Southwest Regional Coach of the Year awards.
Additionally, Millican is the first coach in program history to have two five-win seasons (2004-05 & 2012-13) and his eight conference titles marks the most in the Mountain West. Millican has coached a total of 13 All-Americans.
Lobo golfers under Millican's guidance have not only shown success on the course, but his influence on academics has proven to be exceptional. Millican has guided 21 players to earn Academic All-American honors 35 times and he has guided 268players to earn Mountain West Scholar-Athlete titles 56 times. Additionally, 45 players have earned Mountain West Academic All-Conference honors 87 times while Millican has been the head of the program.
In 2019, Millican's team was named Academic National Champion for finishing the 2018-19 season with the top GPA in NCAA Division I by the GCAA. The Lobos finished the Fall 2018 semester with a 3.50 GPA, followed up by a 3.66 in Spring 2019. UNM also marked one of just 32 schools across all divisions to earn the President's Special Recognition honor for achieving a cumulative season GPA of 3.5 or higher.
Prior to becoming UNM's head coach, Millican served as an assistant to former coach J.T. Higgins for three years spanning from 1998-2001. Millican helped guide the team to success in the classroom and on the course. In each of his six semesters as assistant coach, the team was consistently listed in the top-20 and the team GPA was higher than 3.00.
Millican was a three-year letterwinner for UNM from 1994-98 under head coach John Fields (1993-97) and Higgins (1998). Millican had seven top-10 finishes in 27 career tournaments with a career-highlighting 11th-place finish at the 1997 WAC Championships. During his freshman year, Millican recorded his top showing of a seventh-place tie at the 1994 Red River Classic. He was also a 1997 Academic All-American, posting a 3.34 GPA as he worked toward his degrees in general management and human resources. Millican also earned his M.B.A. in 2000 from UNM's Anderson School of Management.
Millican is married to the former Megan Precek. The couple has two daughters, Ryley Nicole and Emily Jane.