University of New Mexico Lobos athletics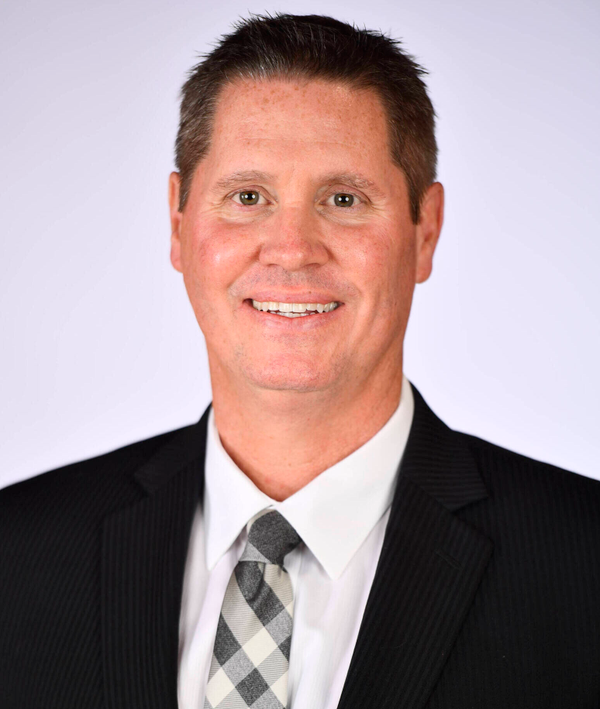 Eric Brown is in his second season at New Mexico and brings over 20 years of Division I coaching experience to the Lobos. As an assistant coach, Brown has coached four NCAA tournament teams at four different programs.
No stranger to the Mountain West, Brown spent three seasons at UNLV (2016-19) prior to his stint with the Sun Devils. The Los Angeles native also spent nine seasons at Long Beach State (2007-16), one at Iowa State (2005-06), four at USC (2001-05) and three at Cal State Northridge (1999-01).
In his first season in Albuquerque in 2021-22, he helped the Lobos see a seven-win improvement, from six wins the year before to 13 wins, despite playing half its games against NCAA and NIT competition. The Lobos, who led the Mountain West in scoring, defeated four NCAA Tournament teams during the season, their most wins over teams in the tournament in seven years. A win over No. 22 Wyoming was the Lobos' first ranked victory in three years.
While at Arizona State, Brown served as assistant coach for the 2019-20 team that posted its first seven-game Pac-12 win streak since the 1980-81 team won 11 straight. The squad went 20-11, after being picked to finish sixth in the annual preseason media poll, and took down No. 22 Arizona and No. 14 Oregon on its way to the Sun Devils' third straight 20-win season for just the third time in program history.
In his tenure at UNLV, Brown helped bring in a recruiting class for the 2017-18 season that was ranked as high as No. 12 in the country and included McDonald's High School All-American Brandon McCoy. While at UNLV, Brown also recruited Shakur Juiston (2016 National JC Player of the Year), Bryce Hamilton (Two-time First Team All-Mountain West), Ethan Anderson as well as local talents Noah Robothom, Nick Blair and Marvin Coleman.
He helped the 2017-18 team to a 20-win season, marking the first for the Runnin' Rebels in four years, as part of a nine-win improvement over the previous season. With Brown on staff, the Runnin' Rebels also performed well academically, setting program records with a 3.17 grade point average for spring 2018.
In his nine years at Long Beach State, Brown helped the 49ers to three Big West Conference regular-season titles, three NIT appearances and a spot in the 2012 NCAA Tournament. During that three-year conference run, Long Beach State posted a league record of 43-7.
Brown spent his time with the 49ers serving as offensive coordinator where he helped the team finish second in the conference in points per game while leading the league in 3-point percentage.
While at Long Beach State, Brown recruited and helped develop All-Big West Conference players Casper Ware, Larry Anderson, Eugene Phelps, T.J. Robinson, James Ennis, Mike Caffey, Dan Jennings, David Samuels, Gabe Levin, Nick Faust, Justin Bibbins, Travis Hammonds, Stephan Gilling and Donovan Morris. Ennis and Ware have both played in the NBA.
At USC, Brown helped the program to several offensive marks in the top-10 of the school's all-time history in just his first season serving as the offensive coordinator. The Trojans' scoring averages in 2003 (76.5) and 2004 (75.4) were among the top 45 in the country. He helped coach 2004 Pac 10 Newcomer of the Year (Jeff McMillan) as well as 2002 Pac-10 Player of the Year (Sam Clancy).
As a recruiter at USC, Brown signed three players that were ranked in the top 100 nationally as well as 2004 McDonald's All-American Robert Swift. In the 2007 NBA Draft, Brown had two players he recruited earn spots with NBA teams. Nick Young was a lottery pick by the Washington Wizards while Gabe Pruitt went in the second round to the Boston Celtics.
While at Iowa State, Brown coached a pair of all-conference selections (Curtis Stinson and Will Blaylock) while helping the Cyclones to the top of the Big 12 in scoring. Blaylock was a second-round pick in the 2006 NBA Draft while Stinson was the 2011 NBA D-League Most Valuable Player.
In his time at CSUN, Brown helped lead the Matadors to their first NCAA Tournament appearance in program history in 2001. In his three years, he coached eight All-Big Sky players including the 2001 Big Sky MVP (Brian Heinle) and 2001 First Team Big Sky point guard Markus Carr. That season, Carr led the nation in assists per game.
In his final season at CSUN he signed six players, three of which earned 2002 Big West All-Freshman honors, including three-time, First Team Big West selection and 2004 Big West Tournament MVP Ian Boylan.
Brown was named one of the Top 25 Assistant Coach Recruiters at the mid-major level by a panel of national media, scouts and former coaches and was named No. 3 in 2001 on the Basketball Times list of the Top 50 "Low to Mid-Major Assistant Coaches."
Brown lettered four years at Grant High School in Van Nuys, Calif. and played one year at Valley College in 1993. He received his bachelor's degree in sociology from CSUN in 1998.
Brown began his coaching career at Grant High (1995-97). While there, he coached a pair of all-city players, including former Washington Wizard guard and NBA All-Star Gilbert Arenas. From there, he served as an assistant coach at Los Angeles Valley College in 1998 where he helped the Monarchs to a 22-10 mark. Brown recruited five players from the 1998 L.A. Valley team who went on to play for NCAA Division I schools.
Brown and his wife have four children.