University of New Mexico Lobos athletics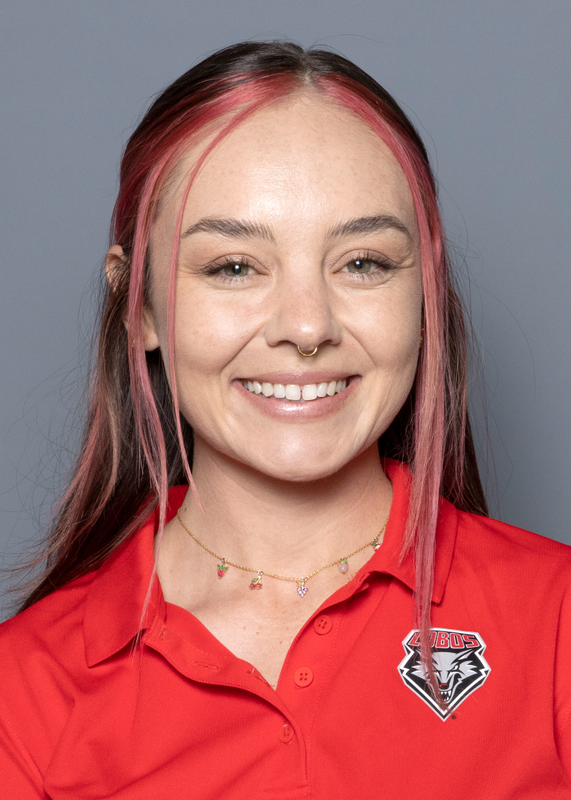 Former UNM standout Darian Zachek begins her second season as the Lobos' assistant coach in 2023-24, after being elevated from a volunteer assistant coach last season.
Zachek moved into the assistant coach role during the Lobos' historic 2022-23 season. New Mexico won the 2023 Mountain West Championship, its second title in three years, and finished T-9th at the NCAA Championship, the Lobos' best national finish in 25 years. The Lobos' shot par or better in a NCAA Championship round for the first time ever, accomplishing the feat in three of the four rounds of play. UNM had a school-record three individual champions with Jenny Lertsadwattana earning medalist honors at the Mountain West Championship and the Ron Moore Intercollegiate and Myah McDonald winning the title at The Show at Spanish Trail. UNM set a school record with a 291.62 stroke average, breaking the previous record (295.94 in 2003-04) by more than four shots per round.
Before moving into the assistant coach position midway through the 2022-23 season, Zachek was a volunteer assistant with the team for a season and a half, beginning in the fall of 2021.
Zachek played four seasons for the Lobos from 2015-16 to 2018-19, earning second-team All-Mountain West honors as a junior in 2017-18 as she posted a 73.87 stroke average. As senior in 2018-19, she was named to the Women's Golf Coaches Association (WGCA) All-American Scholar team as she led UNM with a 76.50 stroke average for the season.
A native of Deming, N.M., she was a two-time state champion and four-time all-state honoree at Deming High School. She earned her bachelor's degree from New Mexico in 2019 in political science and a master's from New Mexico in 2023 in project management.