University of New Mexico Lobos athletics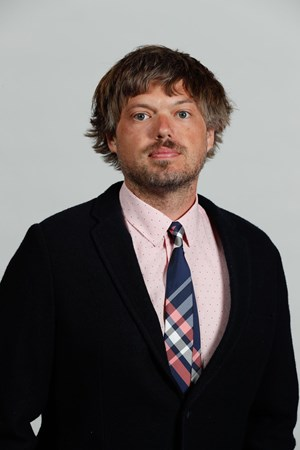 Bob Thurnhoffer was named the assistant coach with the University of New Mexico track & field program in August 2021, after spending the last five seasons as the head coach at Loyola University Chicago. In his role with the Lobos, Thurnhoffer specializes in long sprints, jumps, hurdles and throws.
Thurnhoffer finished his first season at UNM in historic fashion. During the outdoor season his group had 6 NCAA All-American's, 6 NCAA Final Q's, and 9 NCAA Preliminary Round Q's. At the Mountain West Conference Indoor and Outdoor Championships Thurnhoffer's group accounted for 9 Gold medals, 6 Silver's, and 2 Bronze, with 16 All-MWC nods. His group made Mountain West Conference history with the 2nd fastest Outdoor 400m, 4th fastest Outdoor 400m, 4th fastest 400m Hurdles, 3rd fastest Outdoor 4x400m, 4th fastest Indoor 400m, and 3rd best Heptathlon in Conference history. In his first year at UNM his athlete's set 110 personal bests, set 4 school records, put up over 30 UNM Top-10 performances, and broke 2 Veteran's Memorial Stadium Records (Clovis, CA). He was named the USTFCCCA Mountain Region Assistant Men's Coach of the Year at the conclusion of the outdoor season.
Thurnhoffer had spent the last 5 seasons as the head coach at Loyola University Chicago, and the previous 18 seasons as Division I coach in Chicago. He specialized in sprints, jumps, hurdles, and throws during that time.
At Loyola Chicago, he guided his athletes to 35 school records and over 80 school-record performances, 65 conference titles, over 120 conference top-three finishes, 20 conference specialty award winners, while overseeing 6 Horizon League records, 34 NCAA First Round Qualifiers, 3 NCAA Final Qualifiers, and took part in 10 team conference top-two finishes.
Not only did he propel his team in their athletic pursuits but also academically. During his tenure as head coach, the program's academic achievements maintained its prowess, with 32 USTFCCCA All-Academic team members, 9 named to the College Sports Information Directors of America (CoSIDA) Academic All-District Teams, and 2 (CoSIDA) Academic All-Americans.
Thurnhoffer has written several articles for Simplifaster, has been featured on four podcasts, has presented at many clinics and conferences nationwide, and served as a grad and undergrad exercise science guest lecturer.