University of New Mexico Lobos athletics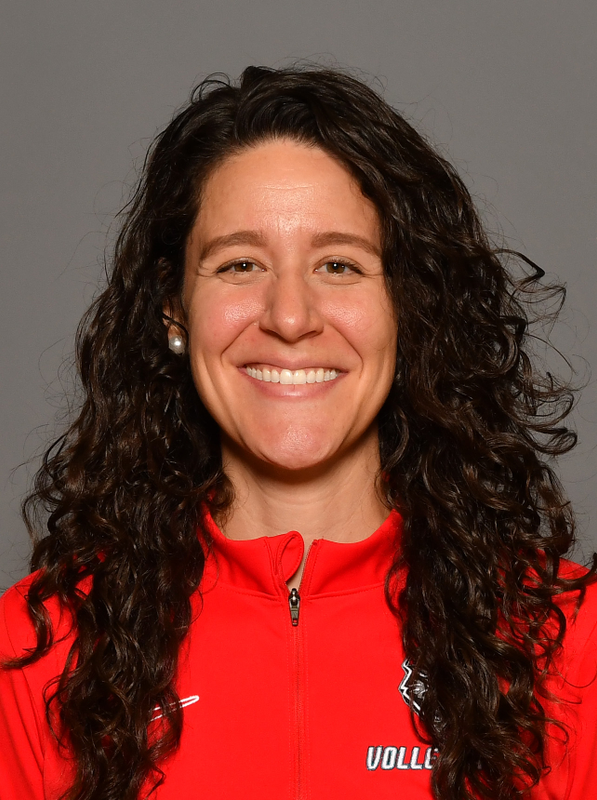 April Sanchez enters her fifth season with The University of New Mexico volleyball team after joining head coach Jon Newman-Gonchar's staff as an assistant coach in June 2019, but her first as associate head coach after being promoted in March 2023.
"April has been a key contributor to the rise of Lobo Volleyball, and every piece of this program has been impacted positively by her incredible work ethic and insights," commented Newman-Gonchar at the time of her promotion. "I am thrilled to be able to name her my associate head coach."
"UNM Volleyball is the lucky recipient of yet another great coach and an even better person wanting to come help make us better," said Newman-Gonchar. "We are incredibly grateful that April chose to come to UNM and thrilled for not only our student-athletes, but the broader Albuquerque community. Our region just gained another fantastic volleyball ambassador for our great sport in the community."
Sanchez came to UNM having spent the previous four seasons at Idaho State as an assistant coach. With the Bengals, Sanchez was responsible for scouting opponents, film and stat analysis, camp coordination and assisted in recruiting.
With the Lobos, Sanchez serves as UNM's defensive coordinator, overseeing defensive efforts, as well as works with the libero and defensive specialists. Off the court, she serves as a community coordinator, directing and coordinating UNM's summer camps, and planning and organizing UNM's volunteer work in the community.
In February 2020, Sanchez served as a court assistant as well as a technical assistant at the U.S. Women's National Team Open Tryout held at the U.S. Olympic Training Center.
Most recently, Sanchez attended the NCAA Women Coaches Academy in 2018, which is designed for women coaches to increase their individual effectiveness by learning skills and strategies that directly impact personal and team success.
Prior to working at Idaho State, Sanchez served as the head volleyball coach at Colorado Northwestern Community College for two seasons and prior to that, was an assistant coach at CNCC for three years.
Sanchez graduated from Lamar Community College in December 2007, where she had a successful collegiate career in which she was named to the 2007 All-Region IX volleyball team and the 2007 South Region IX volleyball team. In addition, she earned the 2007-08 American Volleyball Coaches Association Team Academic Award.
After graduating from LCC, Sanchez went on to attend Colorado Mesa University where she graduated with a bachelor's degree in history in May 2011.