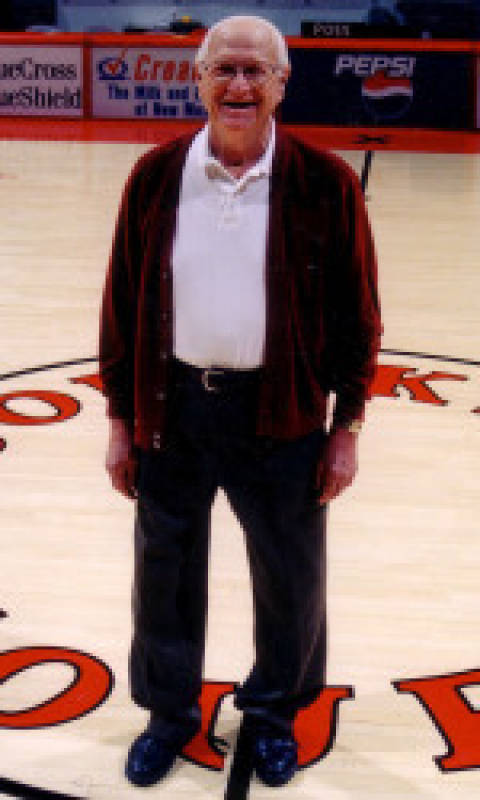 Bob King
Known as the "Architect of Lobo Basketball," Bob King came to the University of New Mexico prior to the 1962-63 academic. He compiled an overall mark of 175-89 at UNM, and never had a losing record in 10 seasons. Before King's arrival, the Lobos had endured eight straight losing seasons.
King led UNM to a pair of Western Athletic Conference titles in 1964 and `68. The Lobos made three NIT appearances, including the finals in 1964, and the school's first NCAA Tournament in 1968. King produced 10 all-WAC performers and two All-Americans in Mel Daniels and Ron Nelson.
Arguably, King's biggest accomplishment was the building of University Arena, or The Pit, after UNM began winning under his auspices. Playing at 7,000-seat Johnson Gym when King arrived on campus, UNM's attendance doubled in his first three years. The Pit opened on Dec. 1, 1966. Original seating capacity was 14,831, which made The Pit one of the largest collegiate arenas in the country at the time. The cost was an economical $1.4 million. In 1975, a mezzanine added 2,300 seats at a cost of $2.2 million. Reserved standing-room-only spots increased The Pit's capacity to 18,018.
On October 2, 1992, University of New Mexico President Richard E. Peck announced that the court at University Arena would be named in honor of Bob King. The Bob King Court was dedicated at formal ceremonies on Dec. 1, 1992.