University of New Mexico Lobos athletics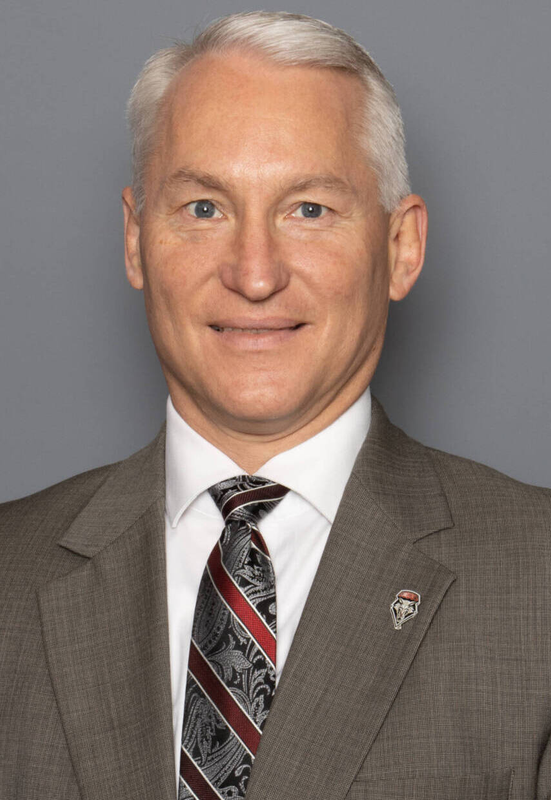 David Williams joined the Lobo family on January of 2019, and he currently serves as Assistant Vice President/Deputy Athletic Director.  Previously, he served as the Deputy A.D. for External Affairs.
With UNM, Williams oversees UNM's external departments including ticketing, marketing, communications and licensing.  Williams also oversees several sports including football and men's basketball.  He also handles many of the day-to-day duties of the athletic dpeartment.
Williams is a veteran of over 30 years in collegiate athletics, and he brings a wide variety of experience, not only at all levels of collegiate athletics, but also in duties.  His career has included 13 years as a Division II Athletic Director and 20 years in upper level administration as well as 10 years as a collegiate coach.
"We are excited about to welcome Dave and his family to the Lobo Family," said Eddie Nuñez.  "He has vast experience in collegiate athletics and is a proven leader.  Dave is passionate about his work, bring energy each day and is a great fit for the culture we are building at UNM.  He has served as President of the Division II Athletic Directors Association, one of the highest honors one can have, and to me it showcases leadership and initiative."
Nuñez added, "Dave is a dynamic communicator and he will be a tremendous asset to our department."
In his time with UNM, Williams has handled several transitions on the external side, including UNM's change to the Paciolan ticketing system, of which UNM earned "Newcomer Of The Year" honors.  Williams also helped spearhead UNM's contract with new website provider WMT and a new contract and online store with apparel provider Zia Graphics.
With South Dakota, Williams worked his entire tenure with Athletic Director Dave Herbster, and he oversaw many facets of the Coyotes athletic department, with specific responsibilities of football and men's basketball program oversight as well as revenue generation.
Regarding USD's program successes, they were plentiful.  The men's basketball team was one of eight teams to win a conference championship during his tenure in Vermillion, and the school were winners of the Women's All-Sport Trophy three times.  The USD football team also was an FCS playoff qualifier in 2017.  The men's and women's basketball teams win the 2016 Community Helping Hands Award from the School Administrators of the State of South Dakota.  As a department, USD twice won the Summit League Sportsmanship Award (in 2016-17 and 2017-18), accumulating over 3,000 total hours of community service in 2016-17.
Williams was part of a fundraising team that included USD's President, A.D., Sr. Associate A.D. and foundation board to fund $72 million in athletic facility improvements, including 13 gifts over $1 million.  Major facilities built include the Sanford Coyote Sports Center, the First Bank and Trust Soccer Complex and the Lillibridge Track Complex, all completed in 2016.
Additionally, USD had $26 million approved for improvements and renovations for the DakotaDome, with $14 million already raised.  Williams has also served as the lead for several external contracts including external rights holders, ticketing and apparel.  He also has served as the lead administrator on several coaching searches, including working with consulting firms for the hiring of USD's football and men's basketball coach.  He also has served as the department's liaison with several on campus constituencies, including the Office of the President, Academic Affairs, Student Affairs, Finance and Budget, Facilities and Services, General Counsel, the USD Alumni Association and the USD Foundation.
"I am humbled that Eddie Nuñez and President Stokes selected me for this position," said Williams.  "I hope to bring energy, build trust, and align vision for Lobo Athletics.  We will work hard to strengthen the Lobo brand by defining our product and telling our stories. We will be creative and persistent in delivering that message."
Williams added, "Through the process, it became apparent that there are great people at The University of New Mexico. I look forward to collaborating with the entire University to work toward common goals."
Williams was involved with the Division II Athletic Directors Association's board for over six years, including three at the President.  While the President, he co-authored "Division II Model Athletic Department", a document still used today by the NCAA as they assist colleges and universities seeking to transition from NAIA to NCAA Division II.
He came to USD after a 13-year run in Division II as the director of athletics at three highly regarded institutions.  He got his start at Wisconsin-Parkside, serving for eight years from 2000-08 before moving onto Missouri Western for three years (2008-11) and then Kentucky Wesleyan for two (2011-13).
His time at Kentucky Wesleyan was busy over his two years, a period that saw the installation of the university's inaugural Hall of Fame Class, which was established under his tenure.  The school also signed an apparel and footwear contract for all 17 Panther teams.  During his time KWC became a charter member of the Great Midwest Athletic Conference.
He went to Kentucky Wesleyan after a successful three-year stint at Missouri Western.  With MWSU, approximately $19 million in funding was secured to build a 118,000 square-foot indoor practice facility, new practice fields and 2,000-seat football stadium expansion.  That led to Missouri Western becoming the new summer conditioning home of the NFL's Kansas City Chiefs, a move which in turn gave MWSU massive media attention and visitor traffic.
Additionally, Missouri Western twice joined with the city of St. Joseph to co-host the Division II Women's Basketball National Championship as well as the Division II Softball Championship.
At Missouri Western, the Griffs won a national award for "Night Out on the Griffs, a community engagement event.  The Griffs won an MIAA award for surpassing the graduation rate of the general student body by the largest percentage, which was 31%.
The beginnings of Williams' administrative career came as Wisconsin-Parkside.  He started as the assistant A.D. for marketing and operations before rising the athletic director in 2000.  Over his eight years at the helm of the Ranger athletic program, Williams played a pivotal role in many facility improvements, including a $12 million expansion of UWP's Sports and Activities Center, an upgrade that included state-of-the-art scoreboards, and the region's first video board.  Additional facility improvements upgraded both baseball and softball facilities with new dugouts, seating and scoreboard.
Williams has a coaching background, serving as both an assistant basketball coach at Wisconsin-Parkside as well as the head men's golf coach.  He also was an assistant men's basketball coach at North Dakota State.  It was at NDSU that he earned a master's in Education Administration in 1995.  He earned a bachelor's in Education from Augustana (Ill.) in 1991.
He and his wife, Dr. Suzanne Williams, have three children; Cooper (20), Carter (18) and Caden (13).  William's wife Suzanne is an assistant professor of Kinesiology and Sport Management at USD.