University of New Mexico Lobos athletics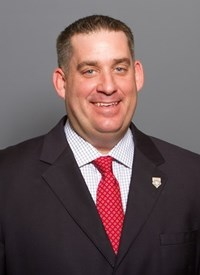 Brad Hutchins is in his 14th year at the University of New Mexico and currently serves as Deputy Athletic Director for External Operations. Previously he served as Senior Associate Athletic Director for Marketing & Revenue. Hutchins has oversight of marketing, communications, ticket office, LoboTV, Learfield Sports, concessions, UNM's trademarks and licensing program, and UNM's Nike contract.
He also serves as the sport supervisor for cross country, men's golf, and track and field. Hutchins also assists Director of Athletics with football and previously has served as sport supervisor for baseball.
Additionally, Hutchins has been involved in securing & negotiating major gifts. The U.S. Bank gift secured naming rights for premium seating areas in Lobo Football and Basketball. The Tamaya Enterprises gift renamed Lobo Baseball Field to Santa Ana Star Field.
Hutchins led the efforts to develop alcohol sales and policies in athletic venues, generating new revenues for the department. Hutchins also led efforts to create the El Lobo Rojo beer with Rio Bravo Brewing Company. El Lobo Rojo is an officially licensed product that will be in distribution all over New Mexico.
Hutchins has represented athletics on several University Committees: Advancement Council, Brand Strategy Initiative Steering Committee, Marketing & Communications Advisory Council, Visual Identity Committee, and Web Advisory Committee.
Previous experiences include Buffalo Bills (NFL), Canisius College (NCAA), American Heart Association (Non-Profit) and internships with the United States Olympic Committee and the Missouri Valley Conference (NCAA).
Hutchins is active in the community as he serves on the Board of Directors for Special Olympics New Mexico.  He has also assisted with Boys and Girls Clubs, Big Brothers Big Sisters in the past and is very active on campus with University initiatives.
Hutchins graduated from Missouri State University with a bachelor's degree in Private Commercial Recreation. He received his master's degree in Sport Administration from Canisius College. Hutchins, 41, is married to Michelle Nowfel and together they have a daughter, Amira, a son, Connor.